January 11, 2016
Campus Services Newsletter
Business Services
At Your Service

Facilities Management is designed to handle a wide range of facilities and maintenance issues, to include:
Custodial Needs
Facility Maintenance & Repair
Utility Maintenance & Repair
Landscaping Services
Waste Disposal & Recycling
Space Needs/Allocations
Renovations/Alterations to Space
Service requests can be submitted by calling the Facilities Management Service Desk at 662-325-2005 Monday through Friday 7 a.m. to 5 p.m. In addition, non-emergency service requests can be entered online by clicking the "Report Maintenance" link on the Facilities Management website: http://www.fm.msstate.edu/
After Hours Requests:
Non-Emergency Requests (After Hours):
If it is not an emergency and can be handled the next business day, call the FM service desk at 325-2005, Monday through Friday from 7:00 AM to 5:00 PM, or enter an online request on the Facilities Management website http://www.fm.msstate.edu/ by clicking the "Report Maintenance" button.
For Emergency Requests (After Hours):
Contact the MSU Police Department directly at 662-325-2121.
Emergency requests include:
Fire Alarms
Water leaks
Plumbing issues (stopped up toilets/drains)
Power Outages
HVAC Outages
Key/Lock Issues
Broken Doors/Windows- unsecured
Elevator Problems
If it is an emergency, MSU Police will contact the on-call Facilities staff to respond to the issue.
Facilities Management
Campus Landscape wins PGMS Green Star Honor Award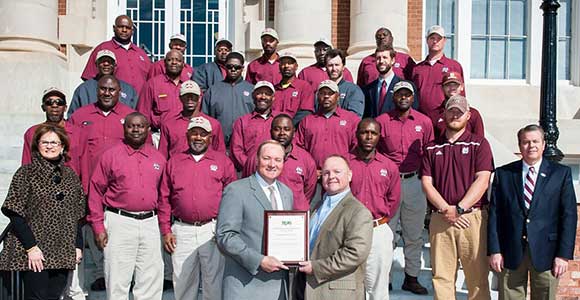 Mississippi State has long been known for the beauty of its campus, and the Professional Grounds Management Society (PGMS) has taken note by awarding MSU with the Honor designation in its annual Green Star awards program. The Green Star Awards Program is aimed to bring national recognition to grounds maintained with a high degree of excellence, and is judged on five categories: Turf, Landscape, Challenges, Budget, and Sustainable Practices. Judges for the award noted MSU's excellence in turf management, clean and well pruned beds, good use of annual and seasonal colors, and use of sustainable practices in horticulture. They also praised MSU's showcasing of spring bulbs and blooms, and fall colors, as well as the exceptional sports turf fields. Mention was also made of how well the Campus Landscape team handles the cleanup process after home football games to restore campus each Sunday morning.
Associate Director for Campus Landscape Bart Prather attended the PGMS Awards Banquet in Louisville, KY to receive the award on behalf of the University.
Planning, Design, & Construction
New Residence Halls and Center for American Veterans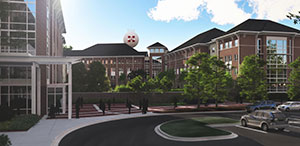 Being sited on a main entrance to the campus, the New Residence Halls and Center for American Veterans is changing the landscape of Mississippi State University. This project demonstrates the ways in which Mississippi State University is responding to the needs of its student population, while adhering to the University's master plan. The two new residence halls will house a total of 752 beds in a total area of 245,000 square feet. Built entirely with steel and masonry the facility is designed for optimum energy efficiency. This new facility will provide a safe and comfortable living environment for our students. In order to take advantage of the volume of construction materials and mobilization of the general contractor it was decided to incorporate as part of the project the construction of the Center for American Veterans. The 7,500 square foot center will be a place for veterans to go that will have study areas, counseling and other services. The total budget for the New Residence Hall and Center for American Veterans is $60.5 million dollars. The design professional was selected in April of 2014 and the project was formally initiated with the Institutions of Higher Learning in May of 2014. The project was designed by The McCarty Group from Tupelo, MS and is being constructed by W.G. Yates and Sons Construction Company. The construction began on February 23, 2015 and is scheduled to be completed no later than July 1, 2016.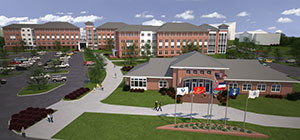 The Office of Planning, Design, and Construction Administration is pleased to have a part in the design and construction of the new residential facility and Center for American Veterans.
Parking, Transit, & Sustainability
​​New GTRA Express Route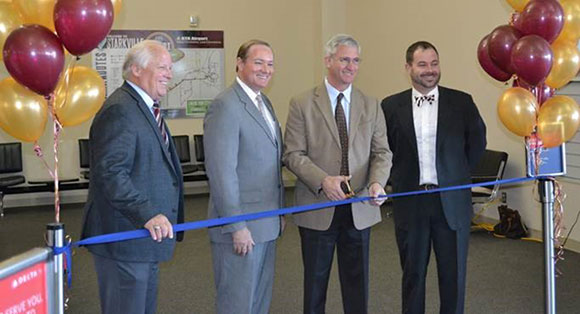 The Starkville-MSU Area Rapid Transit (SMART) has once again expanded its route network. January 4th, 2016 saw the introduction of the Golden Triangle Regional Airport (GTRA) Express route. The GTRA Express will pick up travelers at Walmart (HWY 12 West) and the Mill at MSU. It will arrive at the airport one hour before each outbound flight and depart from the airport 25 minutes after flight arrivals.
On January 4th, 2016, a ribbon cutting ceremony was held at the GTR Airport. Speakers were Jeremiah Dumas, MSU Director of Parking, Transit and Sustainability, Mike Hainsey, GTR Airport Executive Director, Dr. Mark E. Keenum, MSU President, and Mike Tagert, Northern District Transportation Commissioner for the Mississippi Department of Transportation (MDOT).
Tagert said the "last mile" is often the most important component to a successful transportation system. He added that the thriving SMART system and GTR Airport serve as economic growth indicators for the Golden Triangle region. "When you see the reliance on the SMART system and know that we're impacting people's quality of life in the community, that's when you know you're making a difference," Dumas said.
The SMART/GTRA partnership is made possible through funding from the MDOT Office of Intermodal Planning.
In addition to the expanded service, another recent exciting development within the Office of Parking and Transit was the selection of SMART as the 2015 Transportation System of the Year by the Mississippi Public Transit Association.
For a detailed schedule of the GTRA Express and other routes, please visit www.smart.msstate.edu or call our office at 662-325-5204.
Did you know?
You can check the status of your work request at any time
Just visit the Facilities Management website under the Administrative Services tab, click the Work Request Info button and select "Work Request Status Report" and enter your work request number. You will see the current status of your request.
Visit Us: www.fm.msstate.edu/administrative/request

Division of Campus Services
Suite 4000 Lee Hall
Mississippi State, MS 39762
P: (662) 325-5864
This electronic newsletter from the Office of Campus Services keeps you informed and
up-to-date on happenings at Mississippi State University.
-----------------------------Submission Data------------------------------------
   Contact: Office of the Vice President for Student Affairs
Submitter confirms that this announcement meets the requirements of MSU Policy OP 60.123 regarding
invitations to University events.
Recipients: Faculty, Staff, Undergraduate Students, Graduate Students, Deans, Directors and Department Heads at All Campuses
Authorized-By: Vice President for Student Affairs
Customer Service | EEO Statement | Ethics Line | Legal Notices
Copyright © 2016 Mississippi State University. All Rights Reserved.
We are an equal opportunity employer and all qualified applicants will receive consideration for employment without regard to race, color, religion, sex, national origin, disability status, protected veteran status or any other characteristic protected by the law.